Take a 360 Degree Virtual Tour of the Washington D.C. Temple
Virtually tour the Washington D.C. Temple with your personal tour guides, Elder and Sister Stevenson and Elder and Sister Renlund
Washington D.C. Temple Visitors' Center
The center will reopen to the public Friday, June 17 daily. Hours are from 10 a.m. to 9 p.m. Monday-Saturdays and 12 p.m. to 9 p.m. Sundays. The Visitor's Center is open year-round with exhibits, activities, and events that are family friendly, free of charge, and open to the public.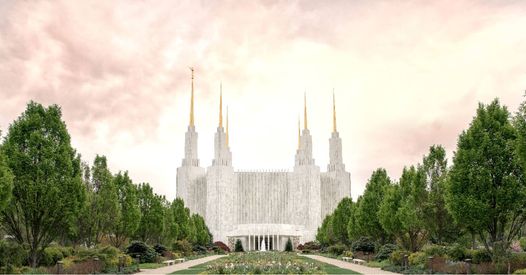 Frequently Asked Questions
Standing on the sprawling grounds about 10 miles North of the United States Capitol, the gold-spired Washington D.C. Temple is a well-known landmark along the Capital Beltway in Kensington, Maryland.
Sharing the 57.4-acre wooded site are the Washington D.C. Stake Center and the beautiful Washington D.C. Temple Visitors' Center, which is currently closed due to COVID-19 and preparations for the Temple Open House.  When the Visitors' Center opens after the Temple is Rededicated, it has numerous interactive exhibits, an inspiring reproduction of the Christus statue, and educational seminars and concerts offered throughout the year. Admission is always free. At Christmastime, the grounds are set aglow during the Festival of Lights, which offers nightly concerts, a life-size nativity scene, and international nativity displays.
Sign up to receive email updates and feel free to ask specific questions about the Washington D.C. Temple Open House. Note: signing up below does not reserve tickets to the Open House.