This article was contributed by a local member of The Church of Jesus Christ of Latter-day Saints. The views expressed may not represent the views and positions of The Church of Jesus Christ of Latter-day Saints. For the Church's official site, visit churchofjesuschrist.org.
The Light the World Giving Machines are a part of the annual Light the World Christmas initiative sponsored by The Church of Jesus Christ of Latter-day Saints. The initiative encourages people to follow the example of the Savior of the world by serving others.
Giving Machines offer a unique way to serve and care for others across the globe, giving donors an opportunity to "select" items such as groceries, fresh water, child vaccines, beds, hygiene kits, farming equipment, medical care, job training, educational supplies, beehives, and livestock as charitable donations. Nearly 125 local and global nonprofits are joining the Church in caring for and serving millions of people in need.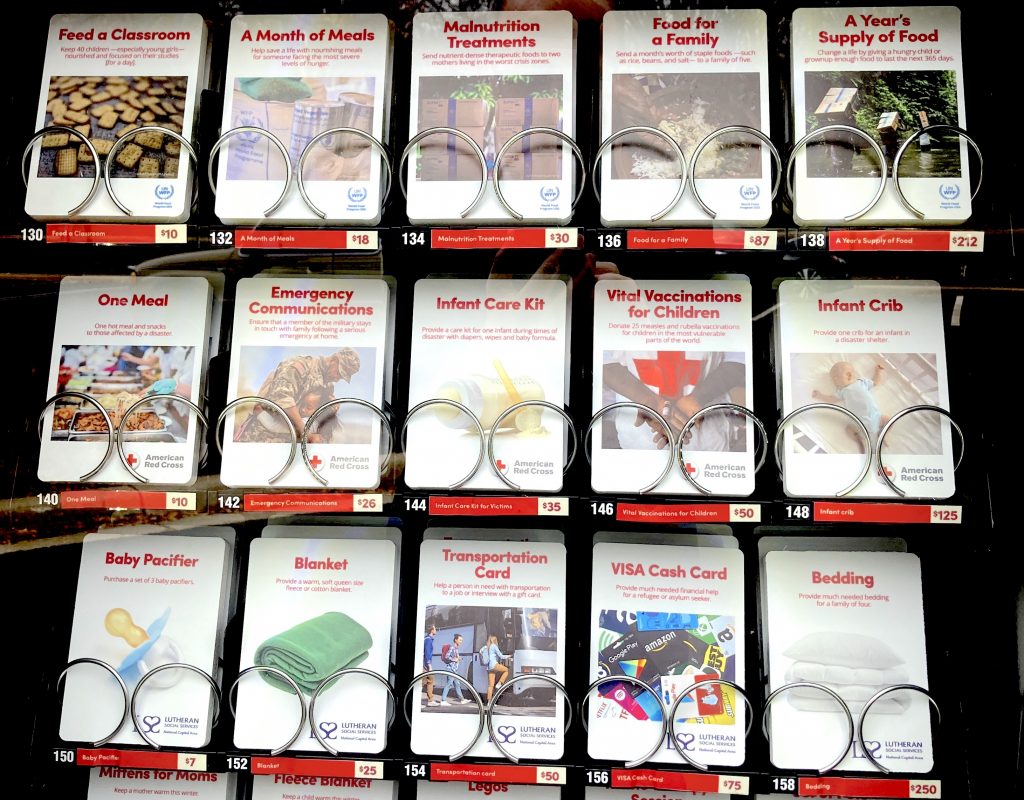 The Church covers administrative and operational fees (including those for credit card transactions), allowing participating organizations to receive 100% of every penny donated.
Although the Giving Machines only take credit or debit cards (no cash), you can help your children or grandchildren participate. Simply set a budget amount (which can be either their money or your money), bring them to the machine, and let them select which items they would like to donate. The donation amount is clearly marked on each selection and can be as low as seven dollars. Let them feel the joy that comes from anonymously helping others!
Learn more about the Light the World Giving Machines.​
DOWNLOAD A PDF OF CHARITIES AND GIFTS​
See the local and global charities that you can support with your contributions through the Giving Machines.​
https://cdn.givingmachine.org/washington-dc-2022-giving-machine.pdf
GIVING MACHINES NEAR YOU​
If you're not in the Washington, DC area, you can find Giving Machines near you, or how to donate online.
https://www.churchofjesuschrist.org/comeuntochrist/light-the-world/giving-machines